There are lots of campaign groups in and around Brighton and Hove that you may wish to support as well as the work we do at Citizens Advice Brighton and Hove. Here we highlight some local campaigns.
"We're here to raise the profile of cycling and campaign for more protected space and better-designed roads so that everyone can get around safely: young and old, able-bodied and disabled, confident cyclists and newbies. Our ultimate goal is a city in which everyone feels safe to cycle, regardless of age and ability."
www.bricycles.org.uk
"Brighton & Hove Citizens, a Citizens UK Chapter, is a local alliances of universities, charities, colleges, churches and synagogues. Together, we organise to tackle injustice in our local communities."
Brighton & Hove Community Land Trust
"Brighton & Hove Community Land Trust (BHCLT) is part of a solution focused grassroots movement for community led land and housing development. We enable and campaign for community led development in Brighton & Hove. We are led by our growing membership of local people and accountable to them and the wider community."
Brighton & Hove Housing Coalition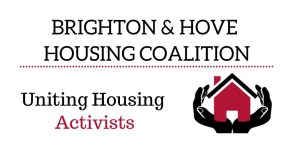 "We are the community and our aims are simply to make our city a fair place to live for all. We want to ensure that no one has to live in poor conditions and/or without rights to decent housing when in need. No one is exempt from homelessness and for that reason our city must be prepared and have plans to resolve our need for truly affordable accommodation." 
www.housingcoalition.co.uk
Brighton & Hove Living Wage Campaign
"Launched in 2012, the Brighton & Hove Living Wage Campaign aims to encourage local businesses to voluntarily pay all employees the real Living Wage instead of the government's national minimum."
 "Landscapes of Freedom is an exciting new collective of people passionate about ensuring public access to the South Downs.
We believe it is fundamentally wrong that 92% of all of England's land and 97% of its waterways are off limits to the general public. We are campaigning for a Right to Roam so that people across the nation can have access to the countryside, just like in Scotland today."
"Brighton & Hove has always embraced and thrived on difference. The caring people here want to welcome people seeking sanctuary. We can give them a new start and they bring skills and culture that enrich our home. 
We are Sanctuary on Sea, the local City of Sanctuary group, and we foster a culture of welcome in Brighton & Hove." 
www.brighton-and-hove.cityofsanctuary.org
"Founded in 2015 as a grassroots organisation in Calais, we're now a Brighton based charity working locally with young refugees & campaigning nationally.
Our Brighton based services have been developed by listening & responding to the needs of local young refugees.
We actively campaign for the rights & protection of refugees."
www.hummingbirdproject.org.uk
Let us know about your campaign group
If you would like to let us know about a local campaign group, you can contact us at researchandcampaigns@cabrightonhove.org